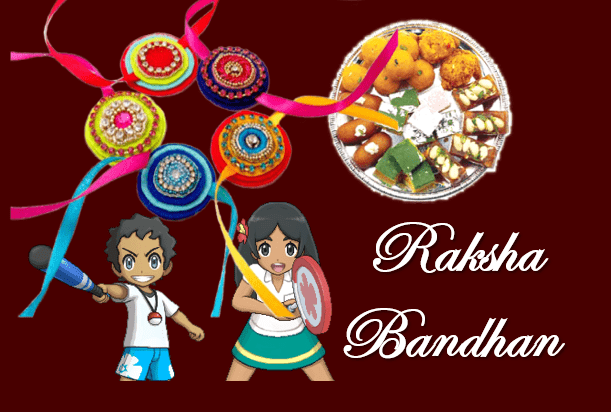 This year Raksha Bandhan is on Monday, 3rd August 2020
Raksha Bandhan Thread Ceremony Time begins at 9:28 AM and ends by 8:27 PM.
Total Duration is 10 hrs 59 Mins
Raksha Bandhan is a pious day for brothers & sisters. This day comes in the month of Shrawan. celebrated on Purnima or Full moon day. People celebrate this day with utmost joy and happiness, as siblings gather at one place where sisters tie sacred rakhi on their brother's wrist and brothers take an oath for their protection. By the end of the ceremony, there is an exchange of sweets, gifts, and blessings.
Significance of Raksha Bandhan:
Raksha Bandhan is ritualistic tying of the thread, which protects the person from all sorts of evils. Raksha, in the form of sacred thread, is personified as the divine power who makes the worshiper fearless. Shachi, Wife of Lord Indra, created Raksha to protect her husband from demons in the war. Therefore, Raksha is worshipped for victory, comfort, sons, grandsons, wealth, and health.
Rituals
The name 'Raksha Bandhan' means "a bond of protection" . On this day brothers make a promise to protect their sisters from all evil and harm and sisters pray for their well being. This festival holds great importance for all religions including Hindus, Sikhs, and Jains all over the world. It is marked by a few rituals, which vary home to home.
1. Days or even weeks before the Raksha Bandhan, Women or the sister starts preparing for the festival. They shop for the ceremonial thread which is tied around brother's wrist. In return, brothers shop for gifts.
2. On the morning of the ceremony, People take bath, wear clean and finest clothes, A tray or thal is prepared. Siblings get together along with the entire family. The ritual begins with fasting of siblings until not tied the sacred thread, lighting a lamp in front of the deity;
3. The women ties Rakhi on their brother's wrist, apply tilak on their forehead and give them sweets, dry fruits, etc.
4. The ritual includes a tray consisting of a lighted lamp, sweets, and other things that are rotated around the brother's face. The tilak is put at the center of two eyebrows. After that the women offer sweets and in return, they receive a gift. With this, they open fasting by eating delicious food.
Acharya shares the correct way of preparing the sacred plate or Puja Thali
For conducting the rituals, one needs to prepare a tray with Roli (Red Threads), Dhan, Akshat (Rice), Diya, Vermillion Sweets, Dry Fruits, and Rakhi thread on the plate.
Special Things to do on this Raksha Bandhan
Many women tie Rakhi to Lord Ganesh, Lord Hanuman, and Lord Vishnu. For those who believe in them to be their protectors.


If your brothers cannot come home, you can tie rakhi to Lord Vishnu by remembering their name.
Take blessing from elder brother or sister after tying the rakhi and do eat and share sweets.
Prepare the best possible food dishes for your siblings, eat, share, and enjoy.