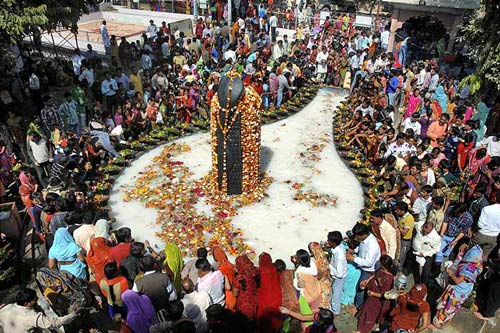 Shravan Month is considered very auspicious among Hindus all over the world. Devotees keep fast on Mondays for Mahadev or Lord Shiva. Shrawan Month will begin from 6th July of the year 2020 and will end on the 19th of August 2020.
Significance of Shrawan Month
It is believed that worshipping Lord Shiva on this day will help his devotees seek salvation. However, according to some legends, it is believed that worshipping Lord Shiva on Shrawan month by unmarried women will help them get a suitable spouse. Therefore, unmarried women observe 16 Somvar Vrata on the first Monday of the Shravan month every year to find a suitable and deserving life partner.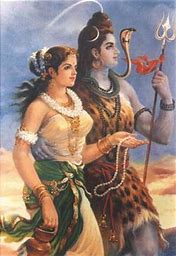 Shravan is considered as one of the holiest auspicious months in the Hindu religion. The Shravan Maas is auspicious for worshipping Lord Shiva, who is also known as 'Shambhu', and his wife Goddess Parvati. It is believed that worshipping Lord Shiva on this day will help people get salvation and therefore special prayers are organized in temples to please him. In the month of Shravan, various other festivals like Naga Panchami, Shravani Purnima, Vara Lakshmi Vrata, Govatsa, Raksha Bandhan, Kalkyavatara, Putradaikadashi and Rishi Panchami are celebrated.
What is the importance of worshipping Lord Shiva in this month?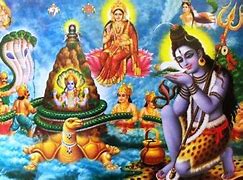 According to legends, Samudra Manthan – churning of the ocean by the devatas (Gods) and asura (Demons) – to get Amrit was started in this month. the holy Shravan Month was the one during which the Gods and Demons decided to churn the ocean to decide who among them was the strongest. This Samudra Manthan has a beautiful divine story with the marriage of Lord Vishnu and Goddess Lakshmi. Samudra Manthan was initiated by Lord Vishnu as a conspiracy. As a result Samudra Dev (Father of Goddess Lakshmi), will have to accept the marriage proposal of his daughter Goddess Lakshmi with Lord Vishnu. And on Samudra Dev's denial, Samudra dev will have to release his precious treasures and resources present in Samudra. However, this Churning activity released both poison and Nectar. The Gods and demons had agreed to share the nectar equally among themselves but 'Halahal' or poison was also churned out which started destroying all kinds of life forms on earth. Snake Vasuki, who is depicted on Lord Shiva's neck and Sumeru Parvat was used for the Manthan. To stop this, the Gods and the demons prayed to Lord Shiva who then drank that poison and saved the world. Therefore, Lord Shiva is worshipped in the month of Shravan as a gesture of gratitude.
Rituals Followed in Shravan Month
In this Shravan month, each Somvar or Monday is called Shravan Somwaar and is considered highly auspicious. All Mondays in Shravan month are celebrated in Lord Shiva temples.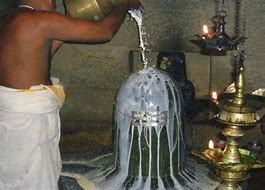 A Dharanatra is hung over the Shiva Lingam filled with Holy water and milk, to continuously bathe the lingam, throughout the day and night. Shiva devotees then offer Bilva leaves, holy water and milk and flowers, also known as Falam toyam and Pushpam patram to the Shiva Lingam during Sawan Month every Monday. Devotees fast until sunset and the Akhand Diya burns throughout this time of Shravan Month.This period is considered very auspicious to the devotees of Lord Shiva and almost every one of them will be fasting either for the whole Sawan Month or at least every Monday of the Shravan Maas.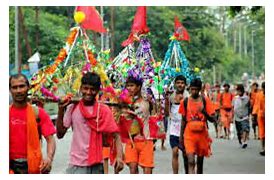 Fasting on Mondays during this entire Shrawan Month. Devotees wake up early in the morning, bath in holy river Ganges, wear white or saffron clean clothes, carry water from the Ganges river (or another nearby river that wind up in the Ganges) the pilgrims, known as kanwariya or Shiv Bhaktas (disciples of Shiva), are mandated to travel barefooted with their Kanwar (walking sticks used to hang the urns of water) for 105 km by various routes and usually in groups made of family, friends and or neighbors, and return to their own local or other more prestigious and larger Shiva Temples to pour Gangajal on Lord Shiva (Shiva Linga). On the march pilgrims continuously sprinkle any and all talk with "Bol Bam" (speak the name of Bam) and sing bhajan (hymns) to praise his name.
Those who cannot visit Shiv Dham ( located in Devghar) pray at their local temples or at home offering a mixture of milk, ghee, yogurt, Gangajal, and honey also known as Panchamrut along with Bilva leaves is a must, incense sticks, white and purple Dhatura flower, akshat, Sandalwood tika throughout Shravan Month. One can have milk and milk products, fruits and other fasting approved items during this time of Sawan Month.
Offering flowers and sweets to Nandi, a cow who sits in front of shiv ling.
Continuous chanting of Om Namah Shivai or shiva mantra or Maha Mrityunjai Jap is highly fruitful in pleasing Lord Shiva.
If nothing comes handy, offer water, Bel Patra and chant Om Namah Shivaya will please Bholenath or Mahadev.
Each Day Spiritual Significance of Shravan Maas

Monday: is the day to worship Lord Shiva.
Tuesday: women worship Gauri for the better health of their family.
Wednesday: is dedicated to Lord Vithal, an incarnation of Lord Vishnu
Thursday: is the day to worship Buddha and Guru
Friday: For worshipping Goddess Laksmi and Goddess Tulsi
Saturday: are for Saturn (Shani Dev). These days are also known as Shravan Saturdays or Sampat Sanivara (wealth Saturdays) as one can pray for obtaining wealth.
Sunday: are for the Sun god. Sun worship was common practice in the Vedic period and it is followed even now. Especially in Shravan, every Sunday the Sun is worshipped.