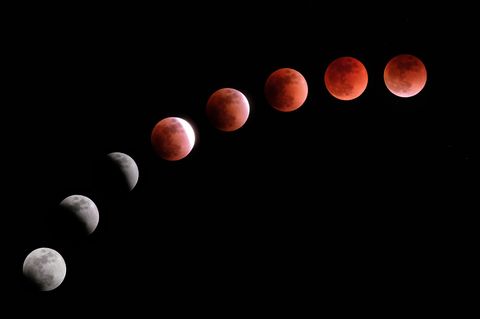 This is the 3rd Lunar eclipse to be witnessed in the year 2020, however, this eclipse will not be visible from India but will be visible in countries of Europe, North America, and Africa on the 5th of July 2020, the fortunate time of the lunar eclipse or Sutak period in India is at 8.37 am to 11.22 am.
Astrologically, this Lunar eclipse will give higher impacts on several star signs. Acharya Says some of the horoscopes are going to be extremely lucky because of this Eclipse.
Taurus, this lunar eclipse will be beneficial in terms of wealth, those who are in the business will make sudden profit, also Taurians who like to invest in Share market may receive some good news. You will have a happy time at home.
For Virgo, Stay alert when it comes to investment. There will be changes in work life, you may earn some reward or success in the most awaited issues of your life.
Libra: This lunar eclipse is going to be productive for Libra people. Those who have been trying to make their financial background strong may achieve some solid hints.
Beginning of new work or business will be successful, stay alert when it comes to health.
Aquarius: This lunar eclipse is going to be helpful for Aquarians as this will bring you monetarily benefits. People who invest in real estate or share markets can double their investment. You need to be very careful while arguments or should limit the speech as it may raise uninvited quarrels.
Leos: This lunar eclipse will give fame, wealth, and gratitude to Leo's. There can be some panic or mental pressure arising in your life. Thinking to begin a new business will give good results. Stay alert in case of health.
Scorpio: For scorpion's, this eclipse is lucky, and is standing in your favor.
You may achieve results with the slightest of your contribution. Acharya says Scorpio will find their wallet full of money by the end of the week. You will meet new and professional people and will get support from your colleagues.
Aries: New opportunities are knocking the door. People who have metal, medicine, and furniture oriented work will earn strategic wealth. Stay alert when it comes to health.
Traditions to be followed during this eclipse:
It is advisable to avoid consumption of food during the designated time of the eclipse.
One can worship their revered believed god at the time of the eclipse.
Always put some Tulsi leaves in the cooked food, water stored at the time of the eclipse.
As soon as the eclipse gets over, people should bath and worship their almighty god.
One should not touch the idols during this eclipse period.
Note: The above mentioned rituals are old Hindu traditions, which may be noted superstition on this date, however we BasudevAstro believe to follow old rituals and share them to the next generation.